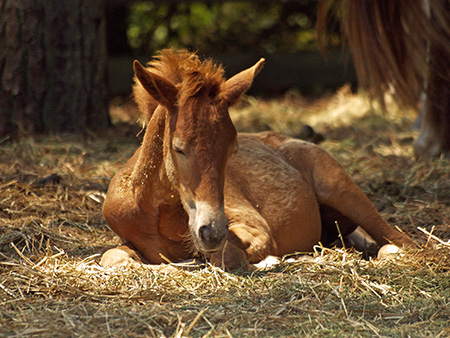 Our Foal vaccination program is designed to protect your foal from five deadly diseases all of which we have seen in our practice area. Eastern and Western equine viral encephalitis, West Nile viral encephalitis, Tetanus, and Rabies, interestingly, are all with the exception of Western equine encephalitis, diseases of humans. Vaccine is typically given to protect against these five, as well as several other less serious diseases, at 8, 12 and 16 weeks of age with boosters given annually.
Second in importance only to infectious disease is our internal parasite control program. We recommend specific dewormers at specific time intervals to optimally protect your foal based on your unique location, farm management practices, and historical data from your farm. Deworming at intervals determined specifically for you is necessary for the life of your horse.
Other wellness issues that need to be addressed include a dental examination annually followed by any indicated dental work. Blood analysis such as complete blood count (CBC) and serum chemistries are especially important in the early detection of physiological disease in horses over 7 years of age. Similar blood work also helps us to recommend measures to keep your show horse, working horse, or trail horse performing to the best of their athletic ability.